The Xiaomi Mi Smart TV 4S 55-inch arrives in Europe; 4K Amazon Prime and Netflix streaming with Android 9.0 Pie for €399.99 (~US$439.98)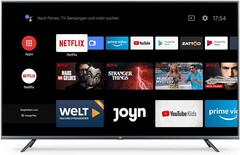 Xiaomi has quietly brought its Mi LED TV range to Europe, having listed the Mi Smart TV 4S 55-inch on Amazon.de on Monday. The affordable big-screen TV runs Android 9.0 Pie, has 2 GB of RAM, 8 GB of storage on which to install apps. The 4K TV supports HDR, DTS, Dolby Audio and comes with Google Assistant built-in. The Mi Smart TV 4S 55-inch is currently on sale at €399.99 (~US$439.98), with Amazon claiming that it will typically sell the device for €699.95 (~US$769.93). The TV is available in Russia too.
The Mi LED TV range is one of Xiaomi's most popular and profitable series in China and India, although the Chinese company currently focuses on selling smartphones and smart devices in other markets. A recent Amazon.de listing suggests that Xiaomi may be about to switch tactics, with the company bringing the Mi Smart TV 4S 55-inch to Germany. The same TV, along with the Mi LED TV 4S 43-inch and Mi LED TV 4A 32-inch are available on the Russian Xiaomi website too.
While Xiaomi is yet to officially comment or announce anything, we would not be surprised if this Amazon.de listing was a soft-launch of sorts, before a broader release in the coming months. Xiaomi already showcases its Mi LED TV range in its sole UK store, so it seems to be a range that they are intent on expanding beyond existing markets.
The Mi TV 4S 55-inch has a 4K resolution and supports HDR, with Xiaomi promising that the TV should typically reach 330 cd/m² peak luminosity. The TV comes with Android TV 9.0 Pie pre-installed, with Xiaomi including Google Assistant, Amazon Prime and Netflix shortcuts on the bundled remote. The Mi TV 4S has an aluminium frame, supports DTS & Dolby Digital audio and comes with 2 GB of RAM along with 8 GB of internal storage.
The TV has a triple DVB-S2, DVB-C and DVB-T2 tuner, an HDMI 2.0 port and currently sells on Amazon for €399.99 (~US$439.98). The Amazon listing states that this is an introductory price, which will eventually rise to €699.95 (~US$769.93). Please note that US pricing is an estimate based on current exchange rates and includes Germany taxes.