Vizio sold 80% more 4K smart TVs over the 2019 Black Friday event compared to 2018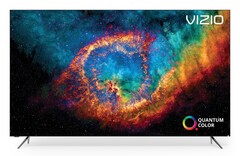 The panel-maker Vizio has reported that it "exceeded expectations" over the Black Friday/Cyber Monday period just gone, having sold 500,000 or more units of its smart TVs between these days in 2019. For example, it sold 87% more premium 4K UHD big-screens year-on-year (YoY) compared to the same event in 2018.
Vizio has released some details on its Black Friday/Cyber Monday performance this year. The OEM has reported that it sold over 500,000 smart TVs on the long weekend in question. It also notes that it sold 87% more high-end models from this category YoY.
Vizio has also observed that the sales of 65- to 75-inch units had increased 132% YoY, suggesting that consumer demand for this screen-size range has improved in 2019 compared to 2018. The brand's 65-inch P-Series Quantum X variant, a 4K UHD TV with up to 3000 nits of brightness, 386 zones of contrast-enhancing local dimming and what Vizio calls "Quantum Color" was a particularly big seller during the Black Friday 2019 event, as was the M-Series Quantum Color and the 75-inch V-Series model.
This OEM's smart TV platform is one that includes its proprietary SmartCast, which offers over 150 free Pluto TV streaming channels. It also supports typical smart-home features, including Apple AirPlay, voice assistant integration and a built-in Chromecast. These Vizio TVs are found in a number of retailers and websites, including Costco, Walmart, Amazon and Best Buy.