TCL's CES 2020 showcase will be based on mini-LED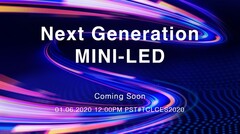 TCL has announced that the new displays to be shown off at the next CES by this company will feature mini-LED technology. This next-gen form of backlight may prove a viable alternative to OLED. TCL asserts that its version are capable of "unrivaled contrast and brilliant clarity".
TCL has announced that it will debut its mini-LED technology at CES 2020. This technology is intended to provide a backlight for devices such as TVs, thus benefiting non-OLED display types. It will be integrated into the more premium of SKUs to be sold by this OEM next year.
Accordingly, TCL is coming to this major tech expo to show them off. It claims that Mini-LED will be paired with its proprietary Quantum Contrast, will deliver "a new standard for TV picture quality". The screens based on this spec combo will each have tens of thousands of the next-gen LEDs in order to maintain this.
Therefore, the OEM may hope to drive mini-LED TV uptake into 2020. So far, this new backlight modality has also been found in professional-level monitors and signage products. TCL's new products will be unveiled in greater detail at its pre-CES press conference on January 6, 2020.