29% of US high-speed internet households now have a smart home device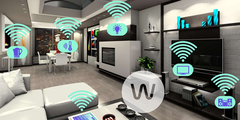 The latest research on smart-home tech uptake has shown that 29% of all broadband-using households in the US polled owned at least 1 such device. This is a change of 20% compared to 2018. However, concerns about personal data remain a major barrier to this category doing even better.
Parks Associates has announced the results of a study in which 10000 US households with high-speed internet were surveyed for connected device use and attitudes towards them in the fourth quarter of 2019 (4Q2019). This resulted in findings that 29% of these respondents reported owning at least 1 smart home product.
By contrast, as few as 9% of a similar group may have said the same in 2018. This suggests that the "smart home" concept, as well as the devices and ecosystems that deliver it, are growing in popularity and uptake. However, they remain affected by some common issues, glitches and bugs that plague this area of tech.
The ability to remain connected to user devices, as well as the rest of the smart home in question, is most prominent among them. However, Parks Associates also reported that anxiety around privacy and data security are still among the biggest obstacles to the further growth of the relevant market in the US.
Those interested in learning more on this subject and who would be at CES 2020 could attend this group's CONNECTIONS Summit, to be held on the first day (January 7, 2020) of this expo.