Control your iPad Pro 12.9 via eye-tracking alone with this new accessory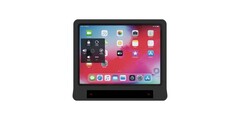 Inclusive Technology has debuted the Skyle, a housing for the larger iPad Pro 2018 variant that allows this tablet to be operated using eye-movements alone. It can allow certain users to access the App Store independently for the first time, while also integrating with other personal or household devices that have infra-red (IR) receivers.
If your life could be improved by the ability to control an iPad Pro 12.9 (2018) with your eyes alone, the Skyle from Inclusive Technology could be for you. It is a housing for this tablet equipped with the sensors necessary to respond to the user's ocular movements. Once calibrated, it can be used to operate a number of apps and features developed for this kind of interface.
Inclusive Technology has produced the Skyle for those who might benefit from augmentative and alternative communication (AAC). This branch of technology has evolved to the point at which it has voice- and text-apps such as TouchChat, GoTalk NOW, and Proloquo2Go - software that would go well with the larger 2018 iPad Pro's screen real-estate and refresh rate.
The Skyle also offers the ability to control other devices and hardware around the home, particularly if they have IR technology. Therefore, a user may be able to use it as a smart-home hub that can be controlled via eye-tracking alone. In addition, it allows access to and control over applicable App Store downloads, and so on. This new AAC device goes for US$2,995 in the US from Inclusive's website.