Xiaomi launches the Mi TV 5 and 5 Pro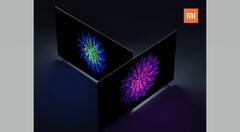 Xiaomi also promised details on a fifth generation of its smart TVs during the Mi CC9 Pro debut. The OEM made good on this - less expectedly, it introduced 2 new variants of the same during the event. The Mi TV 5 Pro is the one that gets the leaked 4K QLED panel, as well as some other impressive specs.
Xiaomi launched not 1 but 2 smart TVs at its Mi CC9 Pro event in China. They are called the Mi TV 5 and Mi TV 5 Pro. The latter is the main focus of the spec leak perpretrated by the OEM prior to their launch. It does indeed have a 4K QLED display with 4GB RAM and 64GB storage. Xiaomi has also equipped it with MEMC and HDR 10 for image quality and clarity.
The Mi TV 5 is not to be entirely discounted, however. It is also 4K, but not QLED. It covers 85% of the NTSC color gamut, whereas the Pro variant goes to 108% as advertised. The 5 also has 3GB RAM and 32GB of internal memory - which is not bad at all for a brand-new smart TV device. It also shares Dolby Audio and DTS HD certifications with the 5 Pro.
Both new Mi TVs also have 55-, 65- and 75-inch SKUs. The 5's have been priced at 2999 (about US$429), 3999 (~$571) and 7999 (~$1143) yuan, whereas those of the 5 Pro are 3699 (~$529), 4999 (~$714) and 9999 (~$1429) yuan, respectively. They will be shipped with Patchwall UI, although this may apply to Chinese-region units only. Should they make it to international markets, they may turn into Android TVs.