Xiaomi announces the massive 98-inch Redmi Smart TV Max that might be larger than your bed and costs 19,999 yuan (~US$2,832)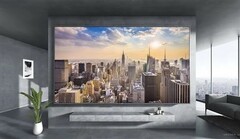 Xiaomi has introduced a huge television into the Redmi ranks in the form of the 98-inch Redmi Smart TV Max. This giant smart device supports 4K resolution and comes with 4 GB RAM, 64 GB storage, and its own 12nm quad-core custom processor. The Redmi MAX has been priced at 19,999 yuan (~US$2,832) and is apparently 13.6% bigger than a single bed.
If you ever dreamed of owning a television that was bigger than your bed, well now you can have one as long as your bed is of the single variety. The Redmi Smart TV Max from Xiaomi has just been unveiled, and with a display size of 98 inches it should turn regular night-time movie-watching into a glorious cinema experience.
The Xiaomi Redmi Smart TV Max offers high-quality 4K resolution, a 192-partition dynamic backlight, Motion Estimation/Motion Compensation (MEMC) for improved viewing experience, and it covers 85% NTSC. There are 20 image quality tuning technologies onboard for those who want the perfect picture on their Redmi Max television, and at a price of 19,999 yuan (~US$2,832) that will be everyone who buys one.
The Redmi Smart TV Max will be available for purchase from April 9. With other delights including a host of connectivity options, two 8 W speakers, 98.8% screen ratio thanks to a narrow frame, and its own custom chip (with Cortex A55 + Mali G31 MP2), the Redmi Max television is a tempting buy for those who feel there is too much available space in their bedroom that their single bed doesn't occupy. Or for other rooms, outdoor venues, popular meeting places etc. Expect to wait 30 days for delivery for the 98-inch Redmi Smart TV Max though.