The new SHIELD TV remote has a Netflix-branded button, but it can be re-assigned or disabled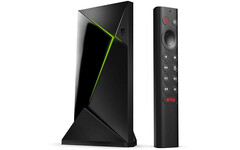 The new NVIDIA SHIELD TV and TV Pro have been released, and they come with an interestingly-shaped new remote. The manufacturer has partnered with Netflix to include a button that summons this app directly on it. However, Reddit users have found that it can also be turned to other uses.
The SHIELD stick and Pro variants are NVIDIA's latest Android TV devices, and are also rated for gaming via GeForce NOW. It is also clearly intended for Netflix, as this streaming platform has partnered with the graphics giant to put a button with its logo directly on its new, pyramidal remote control. However, some prospective customers may not have this app, or may simply be over it already.
Luckily, it seems there is a way to avoid redundancy in this button (which is the largest and most obtrusive feature on the peripheral) in these cases. The Reddit user Max_Roc has posted to r/AndroidTV to assert that they have successfully got Button Mapper working on their new NVIDIA SHIELD TV.
This app, which is available on the Play Store, was developed by flar2 years ago and is intended to remap hardware buttons on phones and other Android devices. It reportedly works without bugs or issues for the new SHIELD remote, and can assign "quite a numerous amount" of alternative functions to the Netflix button. They include the option of turning it off completely.
As SHIELD products install the Google Play Store by default, Button Mapper should be an easy download for their users. It should be noted that these individuals may have to enable the app under Settings -> Accessibility to activate its remote control-customizing potential.