The Vivo X30 leaks in its Coral Red color option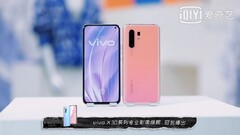 The Vivo X30 has reportedly been spotted in real-life images, showing a novel colorway that is apparently called Coral Red. Additional leaked information asserts that both it and its Pro variant will have the dual-band 5G capabilites of their Exynos 980 chipset. Its battery capacity may also have been spoiled.
The Vivo X30 series is thought to be the first pair of smartphones that will launch with the dual-mode 5G Exynos 980 chipset. A new leak asserts that both of these (the X30 and its Pro variant) will get the full benefit of this processor's connectivity options, rather than sticking the vanilla option with, say, single-band.
These phones are also thought to launch in 2 color options: Coral Red and Marine Blue. The former may have been captured in live-action images. They may show that, despite this name, it has more than a tinge of both pink and orange to it. The images do match the official teaser that shows the X30s' left-corner quad-camera array.
The X30 series is still thought to launch some time in December 2019. Its latest leak indicates that at least 1 variant will do so with a 4350mAh battery, whereas the phones have previously been linked to 4500mAh power-packs. A further spoiler from 3C may show that, whatever the capacity, it may charge at a max rate of 33 watts (W).