The Vivo X30 and X30 Pro are now up for pre-order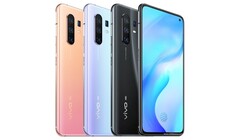 Vivo has launched the X30 series, its first pair of smartphones to come with dual-mode 5G as standard. Its unveiling has confirmed a slew of rumors and leaks, including that the Pro variant has quad rear cameras containing a 64MP sensor, a 50mm portrait lens and a periscope lens. The X30s can now be pre-ordered in China.
The Vivo X30 and X30 Pro have been anticipated for some time, mainly as they are the first phones to rock the Exynos 980 SoC, a chipset that supports dual-mode 5G by default. This was confirmed beyond a doubt at their recent launch in China. However, it appears the series, particularly the Pro variant, may also be in demand due to its array of camera features.
The X30 Pro has quad rear cameras, the main sensor of which is 64MP. However, this is not the most interesting component of this module: that may go to its 13MP periscope lens, which is capable of 5x optical zoom and 60x digital zoom. The X30s also do have another sensor (32MP) with a 50-millimeter focal length. This is intended for portraits, and also confers telephoto abilities. Besides this, there is an 8MP depth sensor.
The X30 also has these cameras, with the exception of the 13MP periscope lens. Both phones come in a coral-red color, as well as black and a blue-to-lilac gradient. They are available to pre-order now on Vivo's own web-store. Here, the X30 goes for 3298 yuan (about US$470) for an 8GB RAM/128GB internal storage variant.
The X30 Pro also has SKUs in this conformation for 3998 yuan (~$570), and also comes in an 8/256GB variant for 4298 yuan (~$613). The 2 new phones will also go on general sale soon: the X30 Pro will be first to this stage on December 24, 2019, leaving the base X30 to follow on December 28.