The eSIM market is now thought to be worth US$700 million by the end of 2019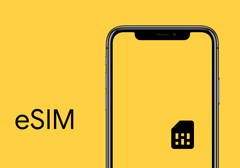 The eSIM market is thought to be capable of growing rapidly in terms of shipment volumes until 2025. New research on the same subject now shows that its value will exceed US$700 million by the end of the year. This may be driven by their use in consumer-grade devices, as well as in newer cars and in the internet-of-things (IoT).
The eSIM market is thought to approach 2 billion in terms of integration into devices by 2025. However, prior to that, new market research has shown it may attain a value of US$700 million long before that. This is mainly due to their potential in electronics such as phones. However, these modules may have applications beyond that.
Embedded subscriber identification modules (or eSIMs) differ greatly from conventional SIMs. Unlike these cards, they are non-removable and exist as chips on boards. Therefore, they are increasingly present in variants of devices such as iPhones and Pixel phones. In addition, Samsung and Huawei are also producing more and more eSIM-enabled phones these days.
These phones can be activated by an increasing number of carriers, which include Vodafone, Telefonica, NTT Docomo, Etisalat and AT&T. They are currently thought to have advantages for employer-issued devices on these networks, as eSIMs can afford the workplace in question much more control over the data used on them. Conversely, it may make it easier on a customer to switch their number to a different company in the future.
Furthermore, eSIMs are an effective solution for newer cars that come with in-built data connections and for IoT devices. This is because their nature allows for refined and reduced device footprints (although admittedly this may mainly apply to the latter). Then again, other similar products such as nuSIMs can do the same. Finally, North America is the biggest sector of the eSIM market in terms of locaitons.