Qualcomm will incorporate a new kind of SIM into its next-gen modem for IoT devices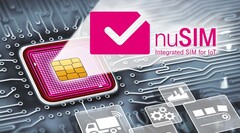 Qualcomm has announced the 9205 LTE modem, a new component destined for internet-of-things (IoT) devices that will connect using this kind of mobile data. However, it will not require a conventional SIM to do so. The OEM has integrated Deutsche Telekom's novel nuSIM platform instead, which goes directly on a chipset to save on device footprint and circuitry.
The last few years have already seen evidence that traditional SIM cards could become a thing of the past soon. To this end, Deutsche Telekom had unveiled the nuSIM platform at MWC 2019. Its function is to move a SIM module directly onto a given chipset, which means that devices no longer need to accommodate the functions of these modules with extra space on their printed circuit boards - or with even more room for dedicated card slots.
This may be an important consideration for IoT devices that need to be as compact or as unobtrusive as possible, while remaining clearly visible to the systems in question at the same time. These components may thus benefit from a SIM of some kind as unique identifiers, for tracking purposes or to enhance their connectivity in general. This may be a valuable quality for IoT in healthcare, logistics, smart cities, security systems or smart meters.
Qualcomm now pitches its new 9205 4G/LTE modem with integrated nuSIM at these very applications. Therefore, this standalone chipset has all it should need to keep a given 'thing' connected to a network in a consistent and reliable manner. Furthermore, the manufacturer asserts that the Deutsche Telekom-developed module is just one of many security-focused features baked into this modem, which function thanks to Qualcomm's Trusted Execution Environment (TEE).