Qualcomm reveals its 2019 fiscal-year performance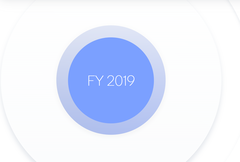 Qualcomm has announced the results for its fiscal year, which ended on September 29, 2019. Its revenues came in at US$24.3 billion, or 7% more year-on-year (YoY). The company also made a total of $4.8 billion in the last quarter of this year (4Q2019), although this is a 50% reduction compared to 3Q2019.
Working For Notebookcheck
Are you a techie who knows how to write? Then join our Team! Especially English native speakers welcome!
Currently wanted:
News and Editorial Editor - Details here

Qualcomm has announced its fiscal year 2019 (FY 2019) results. The silicon giant reported its revenues at US$24.273 billion, which represents a 7% improvement YoY. Of this amount, its operating income was $7.667 billion (whereas the company had only $600 million of the same in 2018), whereas its net income was $4.386 billion, compared to nearly -$5 billion in 2018.
The chip-maker's shares were estimated at basic and diluted values of $3.63 and $3.59 each respectively, compared to -$3.39 in FY 2018. Qualcomm paid a dividend of $2.48 per share this year, or 1.04% more YoY. However, the news was not entirely positive: it made $4.8 billion in 4Q2019 or a 50% drop quarter-on-quarter.
Nevertheless, Qualcomm attributes its overall strong showing in FY 2019 to developments such as the increasing uptake of 5G technology. It also released worldwide 3G/4G/5G device shipment estimates for this year (although it concedes they may be less than entirely accurate due to sluggish licensed product sale data reporting from buyers in China and emerging markets).
They indicate that these numbers will climb from about 1.7-1.8 billion this year to ~1.75-1.85 billion next year (or perhaps 3% YoY). This 2020 volume is now thought to include 175–225 million 5G devices.