Huawei and ARM cleared to continue to their technical partnership on Kirin chips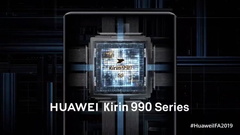 Huawei finally has something to be happy about after months of bad news following its placement on a US government entity list. Although it still isn't able to include a version of Android using Google services, ARM has now been cleared by its lawyers to continue supplying its ARM-based chip technology to the Chinese company.
Since it was placed on a US entity list back in May, Huawei has had its plans for global smartphone domination placed on hold. Already the number two smartphone maker in the world after releasing its first smartphone in 2009, the Chinese giant has been locked out by US corporations including Google, Intel, Qualcomm, Microsoft and even UK-based ARM. It has since managed to launch both new smartphones and laptops, but the former like the new Huawei Mate 30 range is crippled by running a version of Android without Google services and the new Matebooks only being able to launch running Linux.
Huawei also makes its own silicon via subsidiary HiSilicon which makes ARM-based Kirin chipsets that power most of its smartphones. At the time the US ban took effect, ARM also announced that it would cease supplying its CPU and GPU technology to Huawei posing a serious risk to the future of its smartphone making operations. That threat is now over as ARM's lawyers have confirmed its technology is considered of UK origin and can continue to be shared with Huawei and HiSilicon.
Huawei's most recent HiSilcon chip for high-end smartphone is the ARM Cortex-76 based Kirin 990 and it powers the Mate 30 along with Huawei sub-brand devices like the Honor Vera30. It remains competitive with the likes of the Qualcomm Snapdragon 855 and Samsung Exynos 9825, but it would have started to struggle against newer chips like inbound Snapdragon 865 and Exynos 980 which are based on newer ARM Cortex-A77 designs. While it will now be able to roll out a new Kirin chip based on the Cortex-A77 and new ARM Valhall GPU tech, it may be a little behind the 8-ball in getting it to market.