IFA 2019 | Qualcomm unveils the new QTM527 mmWave antenna module for the Snapdragon X55 modem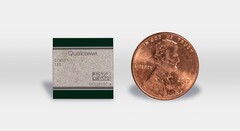 Qualcomm has introduced its latest "add-on" for its 2nd-generation 5G modem, the Snapdragon X55. The QTM527 is an antenna that confers mmWave reception on the chipset. It is intended to enable the X55 to handle fiber-level connections for homes and businesses, regardless of their location.
Qualcomm has come to IFA 2019 in order to promote its 5G products, as well as their potential role in the data infrastructure of the coming years. This is to be based on the Snapdragon 5G Modem-RF Systems, an example of which is the X55 modem and the various antennae and other radiofrequency (RF) components with which it integrates or is associated.,
The latest such module is the QTM527 mmWave antenna module. It is intended to elevate the X55's applications above those to do with mobile devices to the routers - or router-replacements, rather - of the fuure. Qualcomm envisions that these products may be more like the mobile hotspots of the now, but capable of considerably higher speeds and bandwidths.
This new mode of connectivity - which may become known as 5G fixed wireless access (FWA) - is directed at consumers and businesses alike. The company believes that the Sprint hints it will start stocking the OnePlus 7 Pro 5G soonmmWave bands of 5G picked up by the QTM527 antenna will be able to serve these potential customers, even if they are located in isolated regions.
Qualcomm asserts that this is possible through the "beam forming, beam steering and beam tracking for bi-directional communication, along with global band support for compatibility in every major region around the world" built into the QTM527 module. Its samples are being sent to buyers as of now, which may lead to the first wave of FWA products coming to the market in 2020.