Samsung fails again: No monthly security patches for the Galaxy A90 5G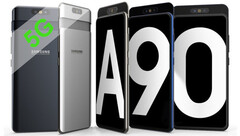 Although it is not cheap at all, the Galaxy A90 5G is Samsung's first non-flagship handset with support for the fastest mobile connectivity standard available for the masses (depending on region, of course). Sadly, although it is more expensive than most 4G flagships currently on the market, the Galaxy A90 5G will only get a new security patch every four months.
With a price tag of more than US$800, the Samsung Galaxy A90 5G is anything but affordable. However, this is Samsung's first non-flagship to offer 5G connectivity and the least expensive such handset from the South Korean tech giant as well. Sadly, the premium price tag does not offer top-notch software support to those who are interested in grabbing the Galaxy A90 5G.
Samsung unveiled the Galaxy A90 5G a few weeks ago and it is currently showing it at the ongoing IFA 2019 trade show in Berlin. This handset is available with 6 GB or 8 GB of memory, 128 GB of internal storage space, and sports a Qualcomm Snapdragon 855 processor. The 5G connectivity part is handled by the Snapdragon x50 modem and the Galaxy A90 5G also features a triple camera setup as its main image shooter.
Unfortunately, the flagship-level price of more than US$800 should at least bring monthly security updates, but Samsung has decided to put this device on the quarterly schedule. The Samsung Galaxy A90 5G is already up for sale in South Korea and should hit select European markets next month.
Would you buy such an expensive handset knowing that you will get only quarterly security updates? What other devices would you buy for about the same price — 5G or 4G? Feel free to let us know what you think in the comments section.