Samsung releases update to patch fingerprint scanner flaw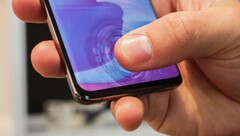 Samsung has released a software patch to fix a security flaw in the ultrasonic fingerprint readers used in the Galaxy S10 and Galaxy Note 10 device families. The patch should come as a notification to users who have registered their biometric data.
Samsung has released a patch to fix the security flaw found in the fingerprint scanners of its Galaxy S10 and Galaxy Note 10 devices. The update should patch an issue reported last week that could allow anyone access to an affected device.
Last week, a British woman claimed that her husband was able to unlock her Galaxy S10 with his fingerprint despite never having registered it with the phone's biometric system. The cause of the flaw was a cheap silicone gel screen protector the woman had put on her phone. Essentially, it seems the phone registered the texture of the screen protector as an authorized "fingerprint," allowing anyone to access the phone.
Samsung issued a statement on the matter last week, promising a quick patch. The company stated it would send a notification to users who had registered their biometric data when the patch was ready. It seems those notifications have started going out today.
Do you have a Galaxy S10 or Galaxy Note 10? If so, did you receive an update for the fingerprint scanner? Let us know in the comments if you received the update and if it indeed patched the problems from last week.