Update (12/29/2019): This article's title and some of its contents were based on the assumption that the modem was an optional purchase with the Snapdragon 865. Multiple sources suggest that this is a mandatory purchase. While this isn't confirmed in any Qualcomm press releases or spec sheets, some of their materials do suggest this. This article has been updated to reflect this. The previous title was "Some 2020 flagship smartphones might not have 5G, and that's a good thing," which was based on this incorrect assumption.
A few weeks ago, we shared a short article about Qualcomm's decision to separate their latest 5G modem from their Snapdragon 865. In brief summary, this article made a number of points criticizing this decision, citing potential issues with heat and battery consumption due to this change. Getting the facts right in these kinds of situations is important, so today we'll be taking a look from another perspective.
There are a number of potential reasons why Qualcomm made this change, and many of them are beneficial to smartphone owners. If you're looking for a short answer, it's likely something to do with heat. During downloads, your smartphone's processor will be doing a bit of work along side the modem. The added heat from the processor could make the 5G modem throttle faster, so separating them can help mitigate this. Additionally, smartphone manufacturers can design systems to keep these chips cool, even when the SoC is hot (for instance, while playing a game).
We'll cover more reasons later in the article, but first, let's address some common questions and points brought up against this change.
Will this make my smartphone run hotter?
In short, no. Qualcomm's X55 modem isn't going to consume much, if any more power than it would've integrated into the Snapdragon 865. The chip itself isn't any different efficiency wise. The amount of added heat from the chip due to this separation would be negligible. Since the two chips were designed for each-other, there should be no extra processing required for them to communicate. Even if there was, the amount of power used for that system wouldn't be worth worrying about.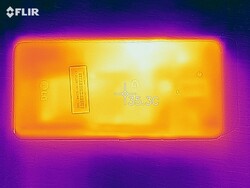 Now, 5G modems do use a lot of power during high load, which results in a significant amount of heat. Any 5G phone will get warm when doing long, high bitrate downloads due to the nature of the technology. Since this tech is rather new, and it's been a while since manufacturers have had to deal with separate modems, the cooling on these chips might not be adequate yet. In later revisions of these devices and chips, it's very likely we'll see smartphones maintaining 5G speeds with almost no throttling.
Will this reduce my smartphone's battery life?
No, separating the modem from the Snapdragon 865 will not reduce your smartphone's battery life. As just mentioned in the heat section, the chip is not significantly less efficient separate than it would be combined with the SoC. Realistically, this change could potentially improve future smartphone's batteries. Assuming future modems will be compatible with the Snapdragon 865, future mid-end phones using this SoC could use a more efficient modem.
Even though 5G traffic does consume more power, it's more efficient than downloading it over LTE. Downloading the same amount of data with LTE would require more power over a longer period of time than with a 5G modem, which accomplishes the same download faster with less energy consumed. Overall, 5G is a pretty efficient piece of technology, at least when used correctly. Venturebeat mentions that for more occasional traffic (like web browsing), only using 5G would likely be less efficient.
A good example of separate modems and efficiency is the Apple iPhone 11 Pro and 11 Pro Max compared to the Samsung Galaxy S10 and S10+. The iPhone 11 Pro (as well as the Max model) use an Intel modem for their cellular communications. The S10 uses either a custom modem (for Exynos versions) or a Snapdragon 855 with integrated modem. Despite having a separate modem, the iPhone 11 Pro operates (on average) about 13% more power efficiently than the Galaxy S10. These numbers were calculated based on our power consumption during load numbers. This isn't even considering the performance difference, which is about 50% in favor of the iPhone. Apple certainly doesn't seem to be having trouble.
Will my next smartphone be more expensive?
Possibly. It's hard to know how much Qualcomm is charging for these, especially this early. The pricing on these SoCs aren't publicly released, so it's impossible to tell. However, this doesn't necessarily mean it will cost more since Qualcomm could potentially charge a very similar price for the combo. Based on Qualcomm's history of anti-competitive practices, it's likely they will at least force manufacturers to buy their modems right now. In the future this may not be the case, but patterns tend to repeat.
It's unlikely Qualcomm is profiting by "double charging" for the modem and SoC. If they were interested in doing that, producing something like the Snapdragon 765G doesn't make much sense. A mid-range processor with integrated 5G probably isn't going to be making them huge margins, after all. This ultimately just seems to be Qualcomm attempting to diversify the devices using their flagship SoCs.
Why did Qualcomm do this?
There's a number of different avenues you could go down to try and explain this change. Qualcomm hasn't officially stated why this change was made, so much in this section is largely assertions based on what we know. Consider this speculation, not any definitive reasoning for Qualcomm's action.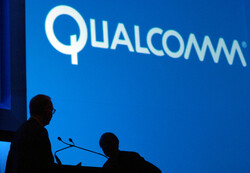 Recently, Qualcomm was found to be in violation of Antitrust laws in California after being charged by the FTC. This was just a month after Apple and Qualcomm had settled their antitrust case, which lead to Intel immediately exiting the modem market. Early this month, Intel blamed Qualcomm for their modem business failing, stating that their manipulative practices prevented them from entering the market.
While it appears that Qualcomm is "getting away with it," it's hard to say this antitrust battle is over. This is the third time Qualcomm has been accused of violating antitrust laws (including a 2008 settlement with Nokia), and it likely won't be the last. There's a good chance that Qualcomm is currently transitioning out of these practices in fear of losing an antitrust lawsuit. If this is true, then this is good news for everyone. In this case, future Qualcomm-based devices would be able to use third-party modems, which could potentially result in cheaper or more power efficient phones. Regardless, this might just be a "safe" move for the company due to increasing legal scrutiny.
While it is true that the Snapdragon 765G will have the new 5G chipset integrated, that's less of an issue than in the Snapdragon 865. As hardly any flagship smartphones use anything but the latest Snapdragon chip, it makes sense that this move would come there first, as that's the majority of the market. Besides legal concerns, it makes technical sense as well. The 765G is a less powerful chip, which consumes less power overall. Since it won't get nearly as hot as a Snapdragon 865 under load, the 5G chip probably wouldn't overheat as quickly when the processor is under load. However, we don't have much data on the Snapdragon 765G yet, so it's hard to definitively say if this is the reason.

Should I care that Qualcomm did this?
I'm not the one to make that kind of decision for you, but I'd encourage you to care. Qualcomm's decision to do this is very good for everyone involved, both manufacturers and consumers. Not only is there more potential for choice in the smartphone market, but competition as a whole is increasing. In a few years, we could even see Android smartphones with Apple modems in them. Besides diversity of parts, the competition could help drive prices down on smartphones due to reduced parts costs.
Overall, this is a positive change for everyone. It's important that we support this kind of (potentially) competition-promoting activity, otherwise there's little reason for Qualcomm to continue doing it.
When I was 9, I tried to modify a PC game. The mod I made worked (mostly) and sparked my current, intense interest in software development. A few years later, that interest led me to experiment with all kinds of tech around the house, which has ultimately given me an eye for small, but substantial, problems in devices and software. I'm now writing articles about technology and its nuances for Notebookcheck.