Update | Qualcomm Snapdragon 865 tech specs indicate support for all kinds of 5G networks, updateable GPU drivers, [email protected] Hz displays, 15 TOPS AI performance, and native HDR video recording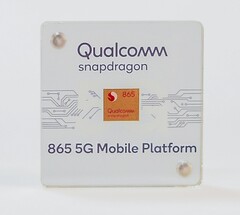 Qualcomm unveiled its latest flagship SoC, the Snapdragon 865, yesterday but offered not much in terms of the exact technical specifications. Today, at the ongoing Snapdragon Tech Summit 2019 in Hawaii, Qualcomm revealed exactly what goes into making the Snapdragon 865 a powerful SoC designed for the next generation of flagship mobile devices. Here's an overview of all the technical details that were announced.

Connectivity
Qualcomm has chosen 5G for the Snapdragon 865 and has added its latest 5G modem, the Snapdragon X55, to its range as a necessary addition to the SoC. The X55 is a 7nm multimodem (4G and 5G) capable of peak speeds of up to 7.5 Gbps and uplink speeds of up to 3 Gbps in 5G networks. It is fully compatible with Qualcomm's latest QTM527 mm wave antenna. All devices implementing the Snapdragon 865 SoC must be equipped with the Snapdragon X55 companion as the 865 SoC does not have an integrated modem unlike its predecessor, the Snapdragon 855. The X55 5G modem supports a range of 5G SA and NSA, mmWave and Sub-6 GHz frequencies (4x4 MIMO) as well as FDD and TDD bands.
In addition, the Qualcomm FastConnect 6800 provides a state-of-the-art WiFi chip. It supports Wi-Fi 6 (802.11ax), 802.11ac Wave 2, 802.11a/b/g/n in the 2.4 and 5 GHz frequency bands. Qualcomm specifies 1.774 Gbps as the top speed. The chip also integrates Bluetooth 5.1.

GPU and CPU
The Snapdragon 865 Octa Core CPU is upgraded to the Kryo 585, which Qualcomm claims offers a 25% performance boost over the Kryo 485. The SD 865 features the latest Cortex A77 cores from ARM, with the Prime Core clocked at 2.84 GHz and three Gold Cores clocked at 2.42 GHz. Four Cortex A55 cores at 1.8 GHz complete the 8-core CPU configuration. The speeds are identical to those of the SD 855, but the L3 cache for the CPU cluster has been increased from 2 MB to 4 MB. The SoC also supports a hybrid memory controller that is compatible with both LPDDR4X and LPDDR5 RAM, the latter being clocked at 2,750 MHz and capable of achieving 44 GB/s bandwidth.
The SD 865 also features an Adreno 650 GPU, which is said to be up to 20% faster than the Adreno 640 in its predecessor, the SD 855. The Adreno 650 includes the entire suite of "Snapdragon Elite Gaming Features" such as "Desktop Forward Rendering" and "Game Color Plus". The Adreno 650 will be the first mobile GPU to support regular driver updates independent of the operating system. The GPU can drive displays up to [email protected] Hz or [email protected] Hz and has native 10-bit color depth and Rec.2020 color space support.
Qualcomm points out that the CPU and GPU have been designed with "sustained performance" in mind, which means consistently high performance when needed, without short-term throttling.
Security
The Snapdragon 865 has a "Secure Processing Unit" integrated directly into the chip, which manages all security-relevant processes on the device. No cloud connection is required for all processes. The SD 865 has been certified as smartcard-equivalent in terms of security and is the first platform to support "Mobile ID", i.e. the carrying of a valid identity card on the end device.
AI
Qualcomm has already focused on Artificial Intelligence (AI) in its predecessor chips, and this time it's no different. The combination of Kryo 585 CPU, Adreno 650 GPU and a new Hexagon 698 DSP is expected to deliver more than twice the AI computing performance (15 TOPS) of the SD 855 (7 TOPS) while consuming less power. It remains to be seen how the SD 865 will perform compared to the Apple A13 Bionic and HiSilicon Kirin 990, both of which claim class-leading AI performance.
The Snapdragon 865's AI capabilities were impressively demonstrated during the press conference. From music recognition, to speech-to-text recognition, to simultaneous translation, shown with English voice input to Chinese voice output. For example, a voice call from America to China could be possible, whereby the communication between the two participants is automatically translated from English into Chinese and back. What's special about this is that no cloud connection is required for all these tasks; all processes take place directly on the chip. The big advantage: lowest latency and data security.
Camera
The Image Processor (ISP) as part of the Snapdragon 865 SoC will also receive a major update this year and is now called Qualcomm Spectra 480, which can process images at a speed of 2 gigapixels per second thanks to much faster data transfer between the image sensor and the ISP (now 4 pixels per clock rate). This makes it possible to capture images of up to 200 megapixels or video at 4K 30 fps at 64 megapixels per frame, i.e. high-resolution images can be captured simultaneously during a video recording. Qualcomm sees the main advantage of images with an extremely high pixel density of up to 200 megapixels in the possibility of a digital zoom after image creation. Other features of the new ISP include an autofocus with considerably more focus points and the new Noise Filter Core, which is intended to bring significant improvements, especially in low-light scenarios with text display. With the help of "Sematic Filtering" it will be possible to distinguish surfaces in images, such as hair, skin, clothing, background, etc., and to use filters surface-related differently. In the future, the HEIF container format will also be supported, with which numerous information such as exposure, color, date, location, etc. can also be saved and edited.
Thanks to the Spectra 480's ability to record natively in HDR10+, HDR10, HDR10, HLG and Dolby Vision formats, native HDR recording on a mobile phone is possible for the first time. The new ISP can also record videos up to 8K (33 megapixels) and in true 10-bit color depth and Rec.2020 color space. Recording 4K at 120 Fps is also possible, allowing you to create either native video for fast 120 Hz displays, or high-resolution fluid slow-motion videos at 30 Fps. With the feature "Unlimited Slo-Mo" you can record at 720p resolution at 960 fps.
Gaming
In terms of gaming, Qualcomm sees huge potential in cloud gaming, opened up by the opportunities that 5G will offer in the future. To maximize the gaming experience on Snapdragon 865 SoC devices, numerous features have been implemented under the slogan "Snapdragon Elite Gaming". The "Adaptive Game Engine", for example, is intended to ensure consistently high frame rates without any break-ins. In addition to 90 and 120 fps image output, 144 Hz displays will also be supported in the future. Exclusively for PUBG Mobile, 10-bit HDR image output will also be possible. Other features worthy of mention include "Game Color Plus" and "Adreno HDR Fast Blend", both of which are intended to improve the visual image experience in games. Last but not least, Qualcomm will enable users to update their Adreno GPU drivers for the first time in SD 865. The necessary app can be downloaded from the Play Store.

The Qualcomm Snapdragon 865 is expected to be used in the upcoming Samsung Galaxy S11, Note 11, OnePlus 8, Google Pixel 5 and a host of other major Chinese Android flagships. We look forward to receiving some initial benchmark data at the event tomorrow.
Source(s)
Qualcomm Snapdragon Tech Summit
Qualcomm Press Release
Though a cell and molecular biologist by training, I have been drawn towards computers from a very young age ever since I got my first PC in 1998. My passion for technology grew quite exponentially with the times, and it has been an incredible experience from being a much solicited source for tech advice and troubleshooting among family and friends to joining Notebookcheck in 2017 as a professional tech journalist. Now, I am a Lead Editor at Notebookcheck covering news and reviews encompassing a wide gamut of the technology landscape for Indian and global audiences. When I am not hunting for the next big story or taking complex measurements for reviews, you can find me unwinding to a nice read, listening to some soulful music, or trying out a new game.