Xiaomi announces Mi 10 smartphone with Snapdragon 865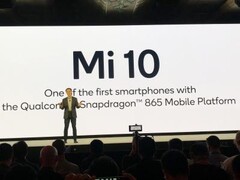 Xiaomi's CEO Lin Bin today announced the Xiaomi Mi 10, one of the first phones to use the Qualcomm Snapdragon 865. Bin offered few details, but it's likely the Mi 10 will carry flagship specifications and use the same 108 MP camera sensor used in Xiaomi's other phones, particularly the Mi CC9.
Xiaomi today announced the Mi 10 smartphone at Qualcomm's Snapdragon Tech Summit 2019.
The Mi 10 will use Qualcomm's upcoming Snapdragon 865 SoC, one of the first phones to use the new chip. Lin Bin, Xiaomi's CEO, made the announcement earlier today but offered very little in the way of details.
However, Bin mentioned the 108 MP camera used in the Xiaomi Mi CC9 and Mi Note 10, so it's possible the Mi 10 could use the same sensor. It's also likely the Mi 10 will have flagship-level specs with plenty of RAM and storage.
Bin also announced that Xiaomi plans to launch over 10 5G-compatible smartphones next year, though he did not give names or any other information. According to Bin, Xiaomi's Mi Watch will also get a 5G modem next year, making it the first smartwatch that can connect to 5G networks.