A second Redmi Note 7 series phone reportedly self-destructs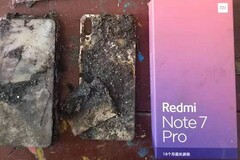 A Chinese user has reportedly claimed that a Redmi Note 7 Pro caught fire, resulting in the complete destruction of the phone. This would be the second time in two weeks that a mobile device from this OEM has apparently ended up in such a state. The company has denied the incident is related to the quality of the phone in question.
Recently, a report in which a user in India asserted that his nearly-new Redmi Note 7S had spontaneously combusted came to light. A Chinese media outlet claims to have picked up a subsequent story in which a more local user's Note 7 Pro exhibited similar behavior. This apparently occurred on October 24, 2019.
This incident was reported by Song Yujie, from Zhoukou in the Chinese province of Henan, who had bought the Redmi Note 7 Pro in question for his father. The device had apparently been placed on a quilt by this individual for the purpose of watching videos when it caught fire.
According to the article on this subject, Song senior had fallen asleep with the phone in this location, but was awoken by the smell of burning. The alleged incident resulted in damage to the quilt, a completely burned-out phone and minor injuries to the user in question as he attempted to stop the conflagration.
Redmi's parent company Xiaomi has responded to this situation. One of their after-sales representatives made a statement to reporters, in which the fire was attributed to an "external" problem unrelated to the OEM's quality procedures.