Leaked image of two PlayStation 5 devkits reveals prototype DualShock 5 controller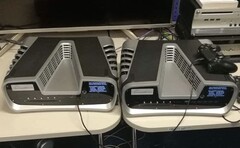 Another image of the PlayStation 5 devkit has been leaked, with two of the devices caught on camera this time around. While this latest picture confirms the design of the next-gen console devkits, there also seems to be a surprise reveal of the DualShock 5 controller. The PS5 is scheduled for release in Holiday 2020 and is expected to cost around US$499.
Last month an image of a PS5 devkit was leaked showing off the now familiar V-shaped design language and the huge cooling system. In case there was any doubt in regard to the legitimacy of that previous PS5 picture, we now have a new leaked image (see below for full version) that features two of the devkits looking exactly the same. However, it appears a potential DualShock 5 controller (DS5) may have also been revealed in this latest photograph.
For the sake of extra confirmation, the photographer has been careful to include two PlayStation 4 devkits (regular variant underneath a pro model) in the background of the shot. This is actually a helpful reminder for those who may be concerned about the V-shaped PS5 devkit design, as it demonstrates just how different the final product should be. The PS4 devkits look like generic pieces of faceless machinery, whereas the consumer variant has a sleek and unique design. But it's still worth repeating how interesting the designs for the PS5 devkits actually are.
In an informative tweet, The Verge's Tom Warren has explained the PS5 devkit design – it helps with stacking and facilitates cooling. Along with the two PS5 devkits, there are a couple of game controllers, with many opining that one of them (the one on top of the devkit) is actually a prototype DualShock 5 controller. The supposed DS5 controller, which has no visible labels on it, appears to be considerably bulkier than the DualShock 4 controller that's lying on the table. It's also just possible to make out the button labels on the right-hand side of the DS4 controller. The DualShock 5 controller is expected to bring USB-Type C connectivity with it, and the much larger handles have already been revealed in patent filing drawings of the device.