Leaked real-life image of PlayStation 5 devkit shows prototype console with possible integrated camera feature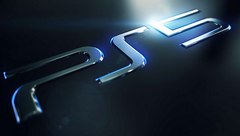 A real-life photo of an alleged Sony PlayStation 5 development kit (devkit) has been posted online as part of a YouTube video uploaded by ZONEofTECH. The console in the picture looks eerily similar to recent concept renders of the device, thanks to the now familiar V-shaped design language and chunky side vents.
It may be the image many gamers have been waiting for: A real-life PlayStation 5 devkit. We actually reported on pictures of alleged PS5 devkits back in March, and it is clear to see that the latest addition to this particular gallery looks most like the numerous leaked patents and concept renders that have been appearing online lately. The V-shaped design is immediately noticeable, as is the button array on the front panel and the large cooling vents on the side of the device.
According to the ZONEofTECH video, the PS5 devkit image (see below) was sent to the company's founder, Daniel Rotar. Of course, it's obvious to see that this is not a final product from Sony, which will be a long way off yet anyway. As we have mentioned before, devkits often look completely different from the product that ends up in our homes. However, it's likely the all-important "V" design will still feature prominently on the finished PlayStation 5.
The PlayStation 5 devkit in the real-life image is labeled "prototype 1 not for sale", and interestingly it seems to have a component above the numerous USB ports that looks like an integrated camera. The PlayStation 3 had PlayStation Eye and the PlayStation 4 had PlayStation Camera, so it doesn't seem to be too much of a stretch to believe that Sony has included a camera with the next-gen PS5, especially in regard to enhancing VR gameplay.