PlayStation 5 devkit and final next-gen console designs are revolutionary in comparison to previous efforts leaving high expectations for the PS6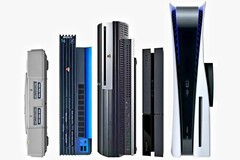 Views, thoughts, and opinions expressed in the text belong solely to the author.
This is not an Xbox Series X vs. PlayStation 5 design comparison as clearly both have their strong and weak points. This is more a PS5 vs. every PlayStation that went before it comparison, and how Sony actually managed to surprise us all with both the devkit design and the final product design for its next-gen console. A timely image reminder of how more recent PlayStation devkits and their companion final products looked has been posted on Reddit, and it is striking when you look at the PS5 devkit and console in this context.
It seems Sony has generally opted for a "box" aesthetic when it has come to past PlayStation devkits, which makes sense as they are simple to produce and don't need to be consumer-friendly when it comes to looks. Whereas the original PlayStation was developed mostly with the assistance of PCs and some specially prepared peripheral cards, the PS2 was preceded by a bespoke devkit that certainly resembled the final product. It was boxy, arguably uninspiring, but it did the job and ended up becoming the best-selling console of all time (over 155 million units).
The image posted above has been creating a bit of a nostalgic stir mixed with building excitement as it features the PS3, PS4, and PS5, in both devkit and final product form. It's clear to see the PS3 and PS4 devkits were built for function and not for form: As one redditor correctly suggested, the PS3 devkit could almost certainly camouflage itself as a video cassette recorder. The PS4 devkit isn't much to look at either, and although the final products were more refined and much sleeker (especially the PS3 here), the designs were more evolutionary than revolutionary.
Then there was the PS5. Early "leaked" images of the PS5 devkit appeared to show that Sony was sticking to the tried and tested format of a non-descript box. However, it was only a few months later when that obvious forgery was blown out of the water by a devkit design so ridiculously different that it surely could not be genuine, right? It had huge air vents, it had a somewhat futuristic look to it…it even had a big V-shaped cutout implemented into it just to remind us that this was the PlayStation V, the fifth in the series. Concept designers and fans went to work on creating what they thought the PS5 final design would look like…but it appears very few were even near to what Sony eventually cooked up and revealed.
This was a revelation that now has over 34 million views on YouTube at the time of writing, including 1.4 million likes (and 63,000 dislikes). The PS5 design was startling, shocking, eye-catching, and definitely divisive, but it became a huge talking point which is what Sony wanted. Yes it's big…it needs to contain a first-rate cooling solution. Yes it looks a bit like a router…but those pointy plates can be changed and customized – so now everyone can have their very own individualized next-gen console. It also looks nothing like its predecessors and nothing like its devkit; the PS5 sticks out like a sore thumb and that is by design rather than by accident.
Of course, this also means a lot can be expected from the PlayStation 6, which might be heading towards shelves by around 2027, with a PS6 devkit no doubt appearing in a leaked image anytime around the beginning of 2026. The PS5 has such a novel design that it will be difficult for Sony just to try to shave an edge here and raise a bump there for the next-next-gen console. The PS6 should also boast of having a revolutionary design, and of course, we will all try to remember that the PS6 devkit will look NOTHING like the final product.
Views, thoughts, and opinions expressed in the text belong solely to the author.
My interest in technology began after I was presented with an Atari 800XL home computer in the mid-1980s. I especially enjoy writing about technological advances, compelling rumors, and intriguing tech-related leaks. I have a degree in International Relations and Strategic Studies and count my family, reading, writing, and travel as the main passions of my life. I have been with Notebookcheck since 2012.