Clock speeds of the purported PS5's GPU were leaked earlier this week. The GPU, codenamed Oberon, was revealed to be running at a staggering 2 GHz and could feature up to 40 CUs. RedGamingTech says that famed leakster Komachi (who leaked Oberon clocks) privately told him, "BC1 is 40 CU, BC2 is 18 CU, and Oberon Native is unknown. Perhaps, BC means Back Compatible."
What this means is that the PS5's GPU could feature 40 CUs. The native configuration is not yet known and it is possible that the 40 CU count belongs to a dev kit (retail units usually have lower specs). For perspective, the PlayStation 4 Pro had 36 CUs while the base model had 18 CUs.
If the above information is indeed true, we could be looking at performance on par with an NVIDIA GeForce RTX 2080 (stock). The 40 CU RDNA part could yield a theoretical performance of 9.2 TFLOPs, which is very close to the RTX 2080's 10.07 TFLOP mark. On Polaris-based architectures, this would be equivalent to 14 TFLOPs, which is about 2.3x the power of the Xbox One X.
PlayStation 5 could be revealed early next year
In another news, we hear that the upcoming Sony PlayStation 5 console could be revealed as early as February 12, 2020, according to a leaked internal memo posted by user 'D.Final' on the NeoGAF forums. According to the source, Sony will be hosting a PlayStation Meeting 2020 event on the said date and is currently preparing for the same. Big ticket publishers such as Activision, Square Enix, Ubisoft, EA, etc. are expected to grace the event.
The memo seems to indicate that Sony will reveal details about the PlayStation 5 and possibly demo first-party games such as Last of Us Part 2 and Ghost of Tsushima. These demos are expected to show off the power of the PlayStation 5's hardware. The note is also suggestive of developments being made to PlayStation VR 2 (PSVR 2) for a launch sometime before fiscal year 2021.
While there's a very good possibility that Sony would follow a similar launch pattern as it did with the PlayStation 4 in 2013, the above information comes from an anonymous source so the usual cautionary disclaimers apply.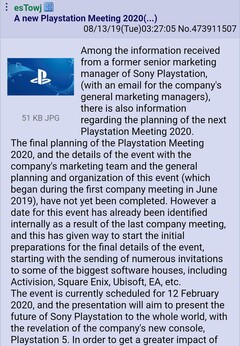 Though a cell and molecular biologist by training, I have been drawn towards computers from a very young age ever since I got my first PC in 1998. My passion for technology grew quite exponentially with the times, and it has been an incredible experience from being a much solicited source for tech advice and troubleshooting among family and friends to joining Notebookcheck in 2017 as a professional tech journalist. Now, I am a Lead Editor at Notebookcheck covering news and reviews encompassing a wide gamut of the technology landscape for Indian and global audiences. When I am not hunting for the next big story or taking complex measurements for reviews, you can find me unwinding to a nice read, listening to some soulful music, or trying out a new game.