We are still more than a year away from the official Sony PlayStation 5 launch, but we already have some idea about the specs of the next gen console including that it will feature a semi-custom AMD APU codenamed 'Gonzalo' (likely, not confirmed). User DemoCleaner over at the NeoGAF forums wanted to find out if Gonzalo can be replicated with current PC hardware. The idea was to find out what sort of PC hardware would give performance equivalent to the PS5's purported FireStrike score we saw recently and "how much horsepower you can put in a console sized box with all it's constraints using AMDs recent tech".
From the codename leak we saw earlier this year, it was evident that Gonzalo would feature a CPU boost of 3.2 GHz and a GPU clock of 1.8 GHz. The last lines of the code (refer image below) also seemed to indicate that the GPU would be a Navi 10 Lite part. The recently launched AMD Radeon RX 5700 XT is a Navi 10 GPU with 40 CUs and is the closest relative we have on the PC side. Also, since Gonzalo is a 7nm octa-core chip, DemonCleaner snapped-up a Ryzen 7 3700X as a PC equivalent.
Now, the PC parts are clocked higher and consume a lot more power than console equivalents so they need to be undervolted. Using AMD Wattman and Ryzen Master, the OP set the frequency limit of the Radeon RX 5700 XT to 1800 MHz at 975 mV and set the maximum frequency of the Ryzen 7 3700X to 3.2 GHz at 1000 mV. The OP notes that the clocks had to be lowered below 1750 MHz to achieve stability and notes that Wattman has a 50 MHz offset i.e. 1750 MHz in Wattman actually translates to 1700 MHz in real life.
With the above hardware and voltage settings, the OP was able to achieve the 20,208 score in FireStrike that TUM_APISAK had indicated earlier. Overall, this 'Gonzalo' combination is about 10% slower than the stock hardware scores with lesser power consumption (208 W vs 280 W).
There are a few things to remember here, though. For one, the PS5 hardware is, in all likelihood, still in the prototyping stage. The 'APU' in question will have lower power draws than this PC equivalent although, we might get to see higher power draw variants with some 'Pro' SKUs down the line similar to the current console generation.
So although it is still early to comment on PS5 hardware (we don't know much, frankly) and considering that console developers will be able to optimize code for the metal, these comparisons must be taken with a pinch of salt for now.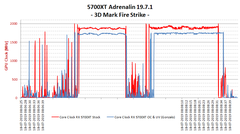 Though a cell and molecular biologist by training, I have been drawn towards computers from a very young age ever since I got my first PC in 1998. My passion for technology grew quite exponentially with the times, and it has been an incredible experience from being a much solicited source for tech advice and troubleshooting among family and friends to joining Notebookcheck in 2017 as a professional tech journalist. Now, I am a Lead Editor at Notebookcheck covering news and reviews encompassing a wide gamut of the technology landscape for Indian and global audiences. When I am not hunting for the next big story or taking complex measurements for reviews, you can find me unwinding to a nice read, listening to some soulful music, or trying out a new game.