Sony may have created a customized SSD for the PlayStation 5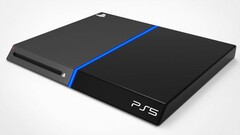 Some revealing patents have been unearthed that give the impression Sony has overhauled the SSD units that will eventually be integrated into the upcoming PlayStation 5 console. It seems "basic" SSDs had too many limitations that would prevent the next-generation console from reaching peak performance levels.
A member of the Resetera forums called "gofreak" has offered up a very convincing argument that Sony is utilizing customized SSDs for the PlayStation 5. Considering the recent video reveal of a PS5 completely outpacing a PlayStation 4 Pro in game loading times, a bespoke SSD could be seen as one of the main reasons why the next-generation console is so much faster than its predecessor.
Among the information found in patents dated from 2015 and 2016 is the possibility that Sony is using SRAM instead of DRAM in the PS5's SSD. SRAM is faster than DRAM, and it would be particularly effective in usage in a gaming scenario where stored data is not being constantly rewritten (such as installing a game).
Other customizations when compared to a "typical" SSD mentioned include an "expanded and unified" SSD read unit and the inclusion of a secondary CPU, a DMAC (Direct Memory Access Controller), and a hardware accelerator. Considering the expected high-end and even arguably revolutionary components the PS5 is expected to sport, a customized SSD seems like a pragmatic step for Sony to make in keeping its next-generation console competitive.