First PlayStation 5 benchmark leak shows it's 4x more powerful than the PS4, and on par or better than the NVIDIA GeForce RTX 2070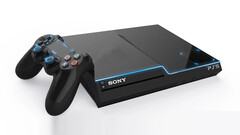 Famed leakster TUM_APISAK has revealed what could be the first benchmark leak of the PlayStation 5's AMD 'Gonzalo' APU. The scores appear to indicate a 3DMark Fire Strike run and we see that the PS5 scores 4x higher than the PS4 and is in RTX 2070 territory. The exact score value and benchmark details are still not known.
News about Sony's upcoming PlayStation 5 and Microsoft's Xbox Scarlett has been pretty exciting so far with both consoles poised for some serious horsepower under the hood. Rumors as on date have pitted a slight edge for the PlayStation 5 over Xbox Scarlett, but things are still early to merit any meaningful conclusion. However, what is not so surprising is that the custom AMD silicon in the PlayStation 5 is capable of whipping up some incredible scores in benchmarks.
Famed leakster TUM_APISAK tweeted an undisclosed benchmark score of the semi-custom AMD 'Gonzalo' APU within the PlayStation 5. He indicates the overall score for Gonzalo to be upwards of 20,000 with the PlayStation 4 (non-Pro) scoring nearly 5,000 for comparison. The details of the benchmark are hidden so exact specifics aren't available but from what we can gauge, this looks to be the 'overall score' from 3DMark Fire Strike.
Just by these numbers alone, we are looking at a 4x performance boost from the previous generation. For perspective, the NVIDIA GeForce RTX 2070 manages to score about 22,170 in 3DMark Fire Strike. APISAK has not mentioned how much upwards of 20,000 the score could be so we can only speculate the capabilities of the GPU for now. Also, we have no idea as to whether the unit in question is an actual PS5 or a dev kit or some similar hardware.
We are still more than a year away from the PlayStation 5's launch so in all likelihood, this could be an early engineering sample based on what is purported to be a GCN + RDNA combo architecture. In any case, it looks like the next-gen consoles are not far away from blurring the lines between PC and console gaming.