The NVIDIA GeForce RTX 2070 SUPER offers little more than the RTX 2060 SUPER and its predecessor in Final Fantasy XV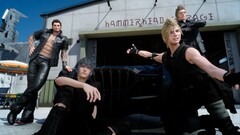 The RTX 20 Series is being hyped to high-heaven right now, but the RTX 2070 SUPER yields hardly any performance improvements over its predecessor in even heavily NVIDIA-optimised titles like FFXV. What gives, NVIDIA?
This second benchmark was run on identical settings as the first, with FFXV also set to DirectX 11. The table below shows the Radeon RX 5700 and RX 5700 XT lagging behind their NVIDIA counterparts, although this is unsurprising considering that FFXV is an NVIDIA optimised game. Moreover, the RTX 2060 SUPER averages over 20% higher framerates than its predecessor and 1% more than the RTX 2070.
By contrast, the RTX 2070 SUPER can only average a measly 4% higher framerates than the RTX 2070. It does offer more consistent framerates than the RTX 2060 SUPER, RTX 2070 and RTX 2080 though, with it never dropping below 60 FPS in 1440p. In real terms, there is hardly anything separating those four GPUs, but the RTX 2070 SUPER still offers the smallest performance gain over its predecessor.
We appreciate that this is just one game, and one game is not a representative sample. However, TechPowerUp has reported comparable findings in its RTX 2070 SUPER review, although there are some outliers like F1 2018 that skew the overall results somewhat. In short, make sure to check out benchmark comparisons before putting money down on the RTX 2070 SUPER. You may find it worthwhile pocketing the difference and buying a discontinued RTX 2070 instead.