Nvidia partnering with ARM on exascale supercomputers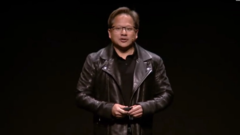 Nvidia is once again partnering with ARM, however this time around it plans to further its plans to support the rise of exascale computing. The two companies have partnered on Nvidia's Tegra chips and on the custom processor powering the Nintendo Switch, but this time around it is about bringing to bare Nvidia's GPU's for their parallel processing capabilities.
Nvidia has announced that it is making its available to the ARM ecosystem its full stack of AI and High Performance Computing (HPC) software by the end of the year. Its technology is already used to accelerate over 600 HPC applications and AI frameworks and includes the company's CUDA-X AI and HPC libraries, GPU-accelerated AI frameworks and software development tools. It will mean that Nvidia's code will be compatible across all the major CPU architectures including Intel's x86, IBM's Power and ARM's RISC architectures.
"Supercomputers are the essential instruments of scientific discovery, and achieving exascale supercomputing will dramatically expand the frontier of human knowledge," said Jensen Huang, founder and CEO of Nvidia. "As traditional compute scaling ends, power will limit all supercomputers. The combination of Nvidia's CUDA-accelerated computing and ARM's energy-efficient CPU architecture will give the HPC community a boost to exascale."
What this will enable is makers of supercomputers to tap into ARM's power-efficient chip designs and mate them to Nvidia's high-end GPUs to accelerate their processing power using parallel processing techniques. It's a big deal for Nvidia as the HPC market is expected to be worth $59.65 billion by the end of 2025. If supercomputers being made moving forward all tap into Nvidia's GPUs, it will mean it could corner the supercomputing market for parallel processing power.