Ming-Chi Kuo: 2020 iPhones will go all OLED, include 5.4-inch and 6.7-inch 5G models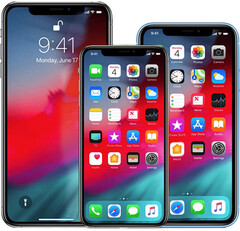 The usually reliable Apple analyst Ming-Chi Kuo expects Apple to launch its first 5G iPhone in 2020. He also expects we will see a new smaller 5.4-inch model along with a larger 6.7-inch device both with 5G connectivity. The iPhone XR-style model will get OLED for the first time, but will continue with the 6.1-inch form factor.
TF International Securities analyst Ming-Chi Kuo has forecast that Apple will finally get on board the 5G bandwagon in late 2020 with a 5.4-inch model and a 6.7-inch model getting the latest in cellular technology. The iPhone XR-equivalent model will continue with a 6.1-inch display but will switch to OLED for the first time making OLED standard across the board. However, it will stick with standard 4G LTE cellular tech for the time being.
Interestingly, Apple's current iPhone XS models are sized a 5.8-inches and 6.5-inches respectively. A smaller 5.4-inch form factor would help to cater for iPhone SE fans, of which there are plenty, who prefer a more compact form factor. Conversely, Apple is upping the ante on Max-equivalent by switching to a 6.7-inch panel that would put it on par with the Samsung Galaxy S10 5G. As for the 5G tech, we expect Apple's new arrangement with Qualcomm will see an integrated modem on what will be Apple's A14 SoC.
Apple's current volume seller in its iPhone line up is the iPhone XR and the company doesn't look to be keen on messing with that winning formula. The switch to OLED in 2020 will put it on an even footing with Samsung's Galaxy S10e-equivalent which is currently shipping with a Dynamic Super AMOLED panel compared to the IPS LCD panel in the iPhone XR. The 2019 model, however, will have to hold out with LCD one more year. Kuo hasn't made any observations about Touch ID, but it is known that Apple has been working on an in-display fingerprint sensor that could make an appearance at some stage.