The 9X Pro could be Honor's first phone to use the new Kirin 810 processor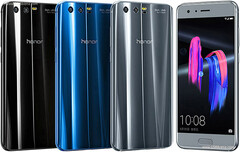 The Kirin 810 may be introduced with the upcoming Nova 5 phone from Huawei. Now, it appears that Honor also has access to this new, mid-range SoC. This brand is rumored to use it to make a new device, the 9X Pro.
Huawei's Nova 5 is rumored to ship with the Kirin 810 SoC. Should this be the case, it will be the first phone to feature this advanced mid-range processor. So far, the 810 itself is projected to feature its own NPU and a 7nm architecture. It also seesm that Honor, Huawei's high-value sub-brand, will also integrate this new silicon into an upcoming phone.
So far, only 1 leaker, known as @RODENT950 on Twitter, has any details to offer on this new phone. According to this tipster, it will be called the 9X Pro, and may have an LCD screen measuring between 6.5 and 6.7 inches. It may have as many as 4 rear cameras: a main 48MP shooter (which will be a Sony IMX582 sensor); an 8MP secondary lens; and 2MP modiules for macros and depth-sensing. The Honor 9X Pro may also have a 25mp front cam, although the leaker is unwilling to commit to saying whether it will be in the display or not.
@RODENT950 also speculates that the 9X Pro may get a 4000mAh battery with 20-watt fast charge and a "3D glass design". (This most likely refers to its rear panel.) Should this leak prove accurate, this device will certainly be the most powerful member of a Honor series which also contains the 7X and 8X Max yet.