Huawei Nova 5 Pro officially exists, posts impressive Antutu score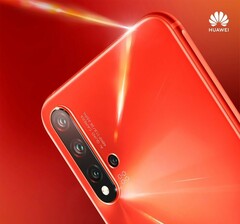 The Nova 5 is the subject of Huawei's next smartphone release. It has been rumored to launch alongside a few variants, including a Pro version. The OEM has now issued a teaser for this device, which has also allegedly gained an Antutu benchmark score and several new leaked photos showing its screen, color options and (possible) fast-charging status.
Huawei will release the Nova 5 smartphone on June 21, 2019. The device has led to leaks that have been somewhat confusing and contradictory: some have suggested that it will be powered by the Kirin 980, and some have indicated otherwise.
Then again, they have been cleared up by further evidence that this SoC will only feature in a Nova 5 Pro variant. Huawei may have confirmed this in an official teaser released today (June 18, 2019).
This device (which has previously been shown to have 8GB of RAM and run Android 9.0 by a Geekbench listing) has also reportedly appeared as an Antutu benchmark listing. It has posted a score of 315816, which sets it up nicely as a powerful 2019 device.
A device alleged to be the Nova 5 Pro has also shown up in leaked live images. One of them show a charger, the writing on which, while partially pixelated out, may read "SuperCharge" along its top line.
In additional Huawei news, the OEM reportedly confirmed that the MediaPad M6 will also be launched on June 21; therefore, its next release event may be jam-packed with new devices. The Nova 5i and 5i Pro are also rumored to be unveiled on this date.