The Honor 20 gets a Nova rebrand for the European market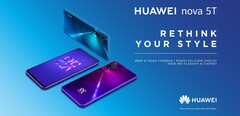 Huawei UK has launched the Nova 5T. It is essentially the Honor 20 with a new name and a new region. Fans of everyday Android may be glad to learn it will be released with Google Play Services.
Huawei has unveiled the Nova 5T on its UK website. Interested viewers might have a sense of deja vu while reading its specs, as they are much the same as the Honor 20. The 'new' Nova consists of the YAL-L61A and YAL-L71A variants of the pre-existing device, both of which have 6GB of RAM and 128GB in internal storage.
The rest of the Nova 4's successor's attributes are those of its Honor counterpart, down to the punch-hole selfie camera, the Kirin 980 SoC - and Android Pie (9.0). However, it is skinned with EMUI 9 rather than Magic UI as in the 20. In spite of the trade restrictions barring Huawei from the use of Google Play Services with this ROM, the 5T reportedly retains the ability to load them.
The reason for this is not clear, although it may be that the Nova 5T had been cleared to use Google software before the OEM's ban had been enforced. Therefore, it may have been announced in order to provide an alternative to the (technically) Google Play-less Mate 30 series in Europe.
It should be noted that the Honor 20 is already on sale in the UK through the retailer Carphone Warehouse. However, the Nova 5T has new colors (Black, Crush Blue and Midsummer Purple) and may become available through more channels soon. Then again, Huawei has yet to actually specify which ones. (Honor 20 128GB on sale now at Amazon)