Huawei is playing with how best to contextualise UI around a punch-hole camera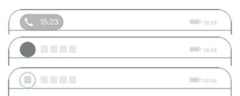 Some intriguing patents have been published by the German patent office. They show that Huawei is toying with the idea of how to contextualise UI and UX around a punch-hole camera. So, it appears that the Chinese manufacturer is hedging its bets that punch-hole cameras are here to stay, at least for the time being in some capacity.
The punch-hole camera is dead, long live the punch-hole camera. While Oppo has publicly unveiled a prototype smartphone with an in-screen camera, Huawei has been filing patents to use the punch-hole camera to its advantage. Currently, OEMs reflow UI around punch-hole cameras like Samsung and its Galaxy S10 series, but Huawei seems to have other plans.
According to several patent images published by the German patent office and picked up by Roland Quandt at WinFuture, Huawei is looking to adapt UI around a punch-hole camera. The images show the punch-hole camera acting as the basis for UI elements like an in-call banner, or a notification detailing what camera mode is active. It almost reminds us of a quasi-second screen, like LG employed with the V20.
Designs in patent filings are usually years away from making it market if they do at all. So, do not expect to see any upcoming Huawei or Honor devices with UI that reacts in this way. Instead, think of it is a window into the future of how big companies think UI will change to match changes in technology. At least one of Huawei's views of it, anyway.