Sony should take a look at these radical PlayStation 5 concept renders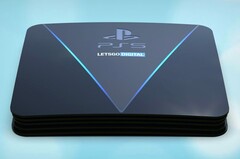 Sony has already announced the PlayStation 5 is in development and even shared some scant but vital component details about the next-generation console. However, there is still no real idea of what the gaming hardware will actually look like when it finally hits the shelves, which will hopefully be sometime in 2020.
A lot has been said about the expected hardware specifications of the PlayStation 5 console lately. But there is something else that should be considered along with all of the gigahertz and teraflops – what it will actually look like. There has been a fan-made design render of the PS5 doing the rounds for quite some time now, but Sony has a bit of a habit of making huge style changes from each generation of PlayStation.
The PlayStation/PS one had its design based around the game discs it relied on, and then the PlayStation 2 came out looking nothing like its predecessor. The PlayStation 3 removed the hard edges and opted for a curvier and sleeker look, and even though the PlayStation 4 is now over five years old it still looks like something from the future. So what will the PlayStation 5 look like?
The design geniuses at LetsGoDigital have had another go at revamping the PS5 concept render, and this new effort looks incredibly different to anything Sony has tried before. A large LED-lit "V" is pasted over the top of the device to represent the number 5. The "PS5" and "PlayStation" logos are present…and there's little else. It's slightly reminiscent of a high-tech flattened accordion; it's a daring design that would attract attention – both negative and positive.