Business presentation slide suggests the NVMe SSD for the PlayStation 5 will come from Samsung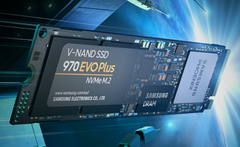 The Samsung SSD Forum that was recently held in Tokyo has possibly revealed a small clue about one of the most important components of the PlayStation 5: The SSD. One of the slides shown during the presentation clearly shows a PlayStation DualShock controller, which has led to this latest round of PS5 speculation. Next-generation consoles will greatly benefit from the faster loading speeds of NVMe SSDs.
The PlayStation 5 is really starting to come together. We already know the Sony console will feature a GPU and CPU bursting with AMD expertise, and now it seems possible the Japanese manufacturer has reached out to another tech giant to share its specific know-how for the PS5's benefit. Samsung may be the supplier of the NVMe SSDs that will dramatically reduce boot and launch times for the next-gen console.
We already reported on the rumor that the PS5 would feature a custom SSD to further its technological leap away from the PS4 predecessor. This was aptly demonstrated in a video showing the PS5 process Marvel's Spider-Man at much higher rates than the PS4 Pro. A slide shown at the 2019 Samsung SSD Forum explaining how important it is to reduce delays during gaming features a PlayStation DualShock controller in plain sight. It seems reasonable to consider this a tease for the PS5's NVMe SSD.
The same slide makes it clear that boot times are greatly reduced with an NVMe SSD. While a typical HDD may take 49 seconds and a SATA SSD operates for 29 seconds, the optimized NVMe SSD from Samsung takes much less time according to the directional arrow, although no specific time is mentioned. The same goes for game loading, with Monster Hunter taking 38 seconds on an HDD, 13 seconds on a SATA SSD, and even less on the optimized NVMe SSD that may find its way into the PS5 and other next-gen consoles in 2020.