Precision 5540: Dell Workstation offers good battery life despite 4K panel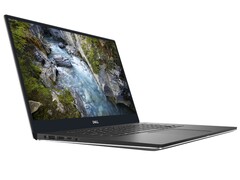 With the Dell Precision 5540, an upgraded workstation with good performance and a design that is similar to that of the XPS 15 series is now available. The 4K option's display shines in our review and the OLED panel does not reduce the battery life by an unreasonable amount of time. However, there are still a few minor drawbacks that users should be aware of.
Our recently published review of the Dell Precision 5540 shows the workstation as a very well designed device with a good build quality. While the port selection is not exactly vast, there is a Thunderbolt 3 port, which can offset the lack of various ports with an appropriate adapter. An Intel Core i9-9980HK sits at the heart of the Precision 5540 and offers overclocking potential thanks to an unlocked multiplier. Whether or not this is a good idea remains questionable however, since the CPU already struggles to achieve the expected performance results. Furthermore, the chassis becomes warm to the touch, which results in a negative impact on the performance during the Cinebench R15 loop.
On the other hand, the OLED panel of the 4K option makes for a great visual experience. The luminance is decent and the glossy screen is pleasantly resistant to glare. Additionally, the panel comes factory calibrated and our own calibration attempt was only able to improve the results of the CalMAN test marginally. All in all, the Dell Precision 5540 is a very high quality workstation with good maintainance options, very good input devices and an excellent display. Users should be aware of the high temperatures and the fact that the runtimes of the Full-HD option are likely to be significantly longer. For a more detailed impression, we recommend a look at our full review.