The Lenovo Yoga C940-14IIL with Ice Lake is a strong opponent for the Dell XPS 13 7390 2-in-1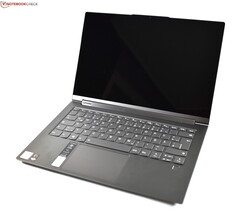 Intel's Ice Lake platform performs convincing in the first reviews. With the Lenovo Yoga C940 convertible we recently reviewed another Ice Lake laptop, which directly competes with Dell's XPS 13 7390 2-in-1. In terms of battery life the Lenovo Yoga C940 is even better than the XPS.
Intel's CPU platform Ice Lake is probably the most exciting thing in the laptop market right now. After Intel struggled to release 10 nm CPUs for years, the company finally delivered on ts promises with Ice Lake. In our review of the Dell XPS 13 7390 2-in-1, we discovered that Ice Lake enabled a better CPU performance as well as an explosion of the GPU performance compared with the old Intel UHD Graphics 620.
Of course, the Dell XPS is not the only new laptop with Ice Lake. A short while ago, we published a review of the Lenovo Yoga C940-14IIL. Ice Lake delivered a convincing performance in this case as well, as the CPU performed even better in the metal chassis of the Yoga under continuous load. Also, the Yoga laptop offers a better battery life.
Certainly, the Lenovo convertible does have its weak points, too. The screen is a lot darker than the XPS 13 screen, with just 360 cd/m² instead of 500 cd/m² with the Dell XPS 13. At this point, we have to mention that Lenovo claims a 400 cd/m² brightness for the screen, which it simply did not deliver in our review. A higher brightness value is available optionally when the Yoga is configured with the 4K UHD screen.
Despite this weakness, we can recommend the Lenovo Yoga C940 based on our comprehensive review. It is a great alternative for the Dells XPS 13 7390 2-in-1, if one is willing to cope with the slightly larger footprint. (buy XPS 13 7390 on Amazon)