CES is a great time for showing off not just products ready for launch, but also proof of concepts. As a first for Dell in Las Vegas, the manufacturer will be displaying three products in their early development stages to gauge user feedback and interest before further investment. These units may not see the light of day or they may even be rebooted as completely different products altogether depending on market trends, but having the chance to play around with unfinished designs is definitely a rare opportunity we didn't want to miss.
So, what is the Dell Alienware UFO handheld?
Of the three concepts Dell has on show this year, the handheld Alienware PC is probably the most intriguing and off-the-wall. Called the UFO, the device is essentially a Windows 10 PC crammed into a Nintendo Switch chassis. It even carries detachable "Joy Cons" that communicate to the main display portion via RF. Users can mirror or extend the display via USB Type-C or play PC titles locally while on-the-go.
The rear of the Alienware handheld has a large stand for propping up the unit similar to the Switch. But unlike the Switch, Dell's version is much sturdier and it can allow for multiple angles as well. Despite being larger and with noticeably louder fan noise than the Nintendo, the UFO is lighter than it looks and more comfortable to grip because of its larger controls.
What are the specifications?
Dell isn't ready to share any specifics as to what will power the handheld especially since the project is still a work-in-progress. Its current dimensions and weight will almost surely change over time as well. Nonetheless, we can deduce what Dell is targeting based on our time with the unit on show. The entire kit was connected to a standard Dell USB Type-C docking station providing 65 W of power to the handheld. According to one of the engineers, the current iteration does not utilize an Intel Core H CPU or even a GeForce GPU. Thus, our best guess is a high-end Intel Ice Lake CPU or a Ryzen and Radeon RX Vega 10 equivalent. The latest Razer Blade Stealth with Ice Lake, for example, is powered by a 65 W AC adapter.
The demo unit was running F1 2019 at seemingly smooth frame rates albeit at low settings with plenty of noticeable aliasing on the external monitor. Based on our benchmark experience with the title, these results are most indicative of an Ice Lake Iris Plus GPU or a GeForce MX250 equivalent.
Why develop an Alienware handheld?
Manufacturers like Razer have dipped their toes in Switch-like Android gaming devices in the past with little to no success. Still, Dell says there is demand for a handheld Windows 10 gaming PC based on its own research and focus groups. Such a product can potentially appeal to hardcore PC gamers who may find the typical pay-to-win smartphone games or Nintendo games unattractive.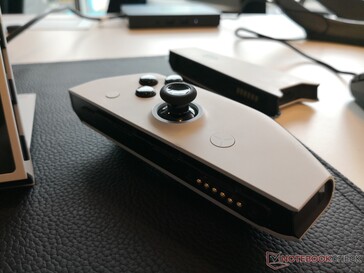 Does an Alienware handheld gaming PC make any sense?
This is the million-dollar question and the main reason why Dell is unveiling the proof-of-concept at CES. Will gamers eat up an Ice Lake-powered handheld Windows PC the same way they've accepted the Nvidia Tegra-powered Nintendo Switch?
In our opinion, we think it's too tough of a sell unless if Dell can price it right against the Switch and shrink the bezels. The system is quite large for a handheld and the advent of game streaming services Nvidia GeForce Now, Microsoft XCloud, Playstation Remote Play, and Steam Remote Play can render the Alienware handheld pointless. For example, you can pair an XBox controller to your smartphone and stream your Steam library to accomplish what Dell is trying to do locally with this prototype. Alienware products have a tendency to be overpriced at launch which would make the proposed handheld even less attractive. If Dell can promise the performance of a Core i7 Ultrabook with Thunderbolt 3 docking options in this small of a form factor, however, then it might be a niche worth exploring.
Of course, Dell isn't fully committed to a consumer-ready version just yet. Now is the time to let Dell know how you feel about the concept of a handheld Windows PC, what your wish list of features may be, or if it's even worth their time and resources.
After graduating with a B.S. in environmental hydrodynamics from the University of California, I studied reactor physics to become licensed by the U.S. NRC to operate nuclear reactors. There's a striking level of appreciation you gain for everyday consumer electronics after working with modern nuclear reactivity systems astonishingly powered by computers from the 80s. When I'm not managing day-to-day activities and US review articles on Notebookcheck, you can catch me following the eSports scene and the latest gaming news.