CES 2020 | Dell XPS 13 9300 in pictures: Don't worry, the SSD is now replaceable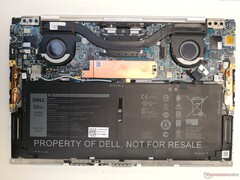 It will also be a hair lighter and smaller by 3 percent and 2 percent, respectively, when compared to the last generation design while sporting the same chassis materials for that familiar look and feel.
Dell just announced a direct successor to the XPS 13 7390 and it will be called the XPS 13 9300. The new model will bring a handful of major changes including the jump from Comet Lake-U to Ice Lake, 16:9 display aspect ratio to 16:10, and the return of Iris Plus graphics after being AWOL for the past 3 years. Even the XPS logo has been revamped to be slimmer and almost Playstation-like for a more "modern" look according to Dell.
Fortunately for tinkerers, cracking open the bottom panel is just as easy as before and with a new surprise: the SSD is now easily upgradeable if so desired unlike on the XPS 13 7390 2-in-1 or last generation 7390 clamshell. Dell says the move was partly inspired by the vocal user base and also for easier in-house servicing should any be required. RAM, however, remains soldered as that is a prerequisite for using the more efficient LPDDR4 modules instead of standard DDR4. In turn, maximum RAM can now be configured up to 32 GB instead of 16 GB on the older XPS 13 7390.
Interestingly, Dell decided not to integrate the MagLev keys of the XPS 15 9575 or XPS 13 7390 2-in-1 due to "user feedback".
The XPS 13 9300 will begin shipping in the U.S., Canada, UK, Germany, France, and Sweden on January 7 for a starting price of $999 with the rest of the world to follow on February 4.