CES 2020 | Intel's response to the impressive 3rd gen AMD mobile Ryzen CPU series? A foldable laptop called "Horseshoe Bend"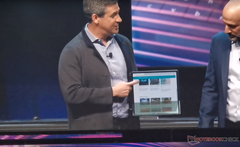 The Horseshoe Bend is clearly a product still in development and not yet ready for prime time, but Intel made it a big showpiece anyway. The 13-inch concept laptop unfolds into a 17-inch tablet and it's expected to run on Intel's next generation Tiger Lake CPU series.
AMD announced what fans wanted at CES 2020: a proper next generation Ryzen 4000 family of CPUs to supplant the current Ryzen 3000 series. The top-end Ryzen 7 4800U and Ryzen 7 4800H will be competitive against the Intel Core i7-10710U and Core i7-9750H, respectively. We expect the 4800U and 4800H to begin appearing on Ultrabooks and gaming laptops in just a few short months to challenge Intel's dominance in the laptop market.
It was Intel's turn to respond tonight during their own 75-minute press conference. Instead, the conference consisted mostly of teasers for Tiger Lake, Thunderbolt 4, AI acceleration, concept products, and the impending DG1 discrete gaming graphics card. It was a night of mostly long-term promises for Winter 2020 at the earliest. In short, Intel had no real answer to the impending 3rd generation of 7 nm mobile Ryzen CPUs aside from the existing 10 nm Ice Lake series and 14 nm Comet Lake-U series.
Perhaps the most puzzling aspect of Intel's presentation was the foldable PC codenamed "Horseshoe Bend". As shown by the video below, the Horseshoe Bend is the size of a 13-inch laptop that can unfold into a 17-inch tablet. Lenovo and Dell already have their own foldable PCs in the works which make Intel's version less impressive.
We have a gut feeling that the unnamed work-in-progress foldable PC from Intel wasn't what fans were expecting or even really wanted. Looks like we'll just have to wait a bit longer for those bigger Intel announcements that gamers and power users would be more excited about.