Dell's cheapest gaming laptop has a few good things going for it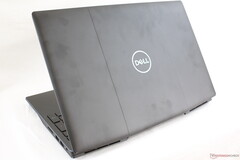 The easy upgradeability of the Dell G3 15 3590 means you can buy the cheapest configuration available and then simply upgrade the storage and RAM yourself to save on costs.
When you're paying bottom dollar for a budget gaming machine, it's unrealistic to expect the best-looking designs or the sharpest display options. The entry-level 15.6-inch Dell G3 3590 is plastic from top to bottom with just basic 1080p 60 Hz panels in contrast to the aluminum-clad Alienware series. But to Dell's credit, even its least expensive gaming machine has some features not found on some pricier alternatives.
The most notable feature of the G3 3590 is perhaps its ease of serviceability. Core components like WLAN, RAM, and the dual storage drives can be removed or upgraded without much trouble to give the system longer legs. This is more than what we can say for the MSI GL65 where users must break an anti-tamper sticker to service the machine, the Alienware m15 R2 where RAM and WLAN are soldered, or the Razer Blade 15 Advanced Model where there are no secondary storage options available. Other inexpensive gaming laptops like the HP Pavilion 15 Gaming discourage end-user upgrades by making the bottom panels more difficult to remove. This approach can allow OEMs to sell a wider range of configurations with various storage and RAM sizes.
Still, it wouldn't be a budget laptop without a long list of disadvantages. See our review of the Dell G3 15 3590 for our full take on the system. (buy Dell G3 Gaming now at Amazon)