Razer Blade 15 gets a pink makeover; will the Blade Pro 17 be next?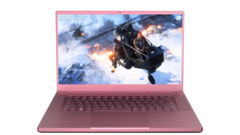 The Blade 15 Quartz Pink Base Model is now shipping with a GeForce RTX 2060, 144 Hz IPS panel, and 512 GB SSD for just under $2000 USD. Unfortunately, you won't be getting per-key RGB lighting as it will feature a single-zone RGB backlight instead.
Of all the colors beyond the usual black and white, Razer has said that pink was the most hotly requested color before they introduced its first Quartz Pink Blade Stealth laptop back in February. The unorthodox move grabbed headlines and really caught the attention of Razer fans especially since pink Razer keyboards, mice, and headphones were already a thing prior to the announcement.
Users can now add the Blade 15 Base Model to Razer's growing list of pink products. Nothing else has changed from the existing black RTX Base Model except that this pink one will be a limited-edition run. It will also cost an additional $100 for a final retail price of $2000. Note that only the RTX 2060 Blade 15 SKU will be getting the new coat of paint; the last generation Pascal SKUs, GTX 1660 Ti SKU, and higher-end RTX 2070 or 2080 SKUs will be missing out.
With the 13.3-inch Blade Stealth and 15.6-inch Blade 15 now both available in pink, there is potential for the 17.3-inch Blade Pro 17 to be next in line. Razer utilizes the same CNC aluminum materials across its entire Blade family and so a pink option for the Blade Pro 17 would definitely be possible assuming decent sales for the pink Blade 15. (Razer Blade 15, Core i7-9750H on sale now at Amazon)