New PlayStation 5 fan renders look decidedly more "PlayStationy"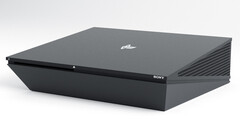 A ResetEra forum user by the name of CrimsonNocturne recently showed off some fan-made renders of the upcoming PlayStation 5. While these models are obviously not indicative of what Sony's future console will look like, they are very well-done and look more like a PlayStation console than previous renders.
With the final design of the Xbox Series X pegged down, a lot of gamers are looking to Sony to see what the upcoming PlayStation 5 will actually look like. We've seen a few different concepts in recent months, but new renders from ResetEra user CrimsonNocturne look more "PlayStationy" than previous models.
Yes, we know these are fan-made renders and are likely not representative of what the PS5 will look like in reality. That said, CrimsonNocturne's renders are very well-done and carry the spirit of Sony's design language. The PS5 models are a thick wedge with ventilation along one side (and possibly the back). There is a render of the console standing as well, continuing the vertical orientation trend started by the PS2.
What do you think of CrimsonNocturne's renders? Would Sony do well to take advice from these renders? Let us know in the comments below.