Sony repudiates alleged PlayStation 5 release date and price leak that states figures ranging from US$600 to over US$1,000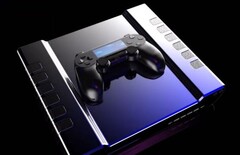 Some new price tags for two variants of the Sony PlayStation 5 have made their way online but have rapidly been denied by the manufacturer of the next-generation console. It was claimed that a PS5 with a 4 TB SSD would cost the equivalent of over US$1,000, while the same source stated that December 4, 2020 had been confirmed as the official release date.
As all PS5 news followers know, Sony has not yet officially released details of the next-generation console's pricing structure or availability (beyond "Holiday 2020"). But that hasn't stopped the occasional vendor or media outlet from either having a crack at what the price could be or guessing at the specific release date. The Japanese site Gamers Gate has stated that a regular PS5 with a 1 TB SSD will cost 69,800 yen (excluding tax; ~US$637/£487/€573), while a PS5 "Premium" (Pro?) with a 4 TB SSD and apparently a discrete ray-tracing capable GPU will be priced at 109,800 yen (excluding tax; ~US$1,002/£766/€901).
Along with those pricing bombshells, the same source also gave December 4, 2020 as the supposed release date for the PS5 and its Premium/Pro relative. However, the suggested prices seem to be quite far from what is generally believed to be the more likely starting point for the PS5, with around US$500 considered to be the most likely candidate. Obviously a PS5 with premium specifications will command a higher figure, but a price just touching over US$1,000 at the current exchange rate appears to be too steep.
Fortunately, Sony has already stepped out to throw water on this particular fire. Famitsu contacted the PS5 manufacturer for a comment and was told that the content produced by Gamers Gate was "not an official announcement". There is no source attached to the original blog post, so it does appear that what many commentators are calling a "hoax" and "fake news" appears to be just that. But what is interesting is the further belief that Sony will produce a PlayStation 5 Pro variant to augment the PS5 series upon its release.