Final Fantasy 7's hardest superboss will soon be a battle in Final Fantasy 14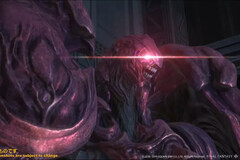 Ruby Weapon, the hardest superboss from Final Fantasy 7, will Final Fantasy 14's rogues' gallery with Patch 5.2 in February. Ruby Weapon joins other optional bosses from prior entries in the RPG series, like Kefka from Final Fantasy 6 and Ultima Weapon, Ruby's brother from Final Fantasy 7.
Gear up, adventurers. Final Fantasy 14's Patch 5.2 update will bring the biggest and baddest superboss from the most popular Final Fantasy game to Hydaelyn.
The update, which is due out in February, will introduce Final Fantasy 7's Ruby Weapon as an optional boss fight. There will also be an Extreme version of the fight for daring Warriors of Light available in the same update.
This is the second Final Fantasy "Weapon" boss to be featured in Final Fantasy 14. Ultima Weapon (the centaur/dragon hybrid version from Final Fantasy 7) was added in an earlier update. Infamous baddies from other Final Fantasy titles, such as Final Fantasy 6's Kefka, have also been added to Final Fantasy 14 as Raid bosses or optional fights.
There's scant information on what Ruby Weapon will be like in his Final Fantasy 14 cameo, but he's sure to be a toughie. While Emerald Weapon is perhaps the more famous of the two superbosses in Final Fantasy 7, Ruby Weapon is often regarded as the more difficult. That is, unless you have amassed a lot of Knights of the Round and Final Attack materia.