Under-screen Touch ID & Face ID iPhone to enter mass-production by 2021: New report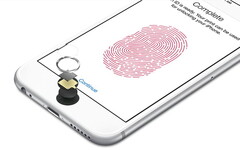 According to reports from China, Apple will start mass-producing displays with an in-screen Touch ID sensor that will complement Face ID in anticipation of their inclusion in the 2021 iPhone series. The upcoming displays will likely have a custom Qualcomm ultrasonic fingerprint sensor, which will have a larger recognition area than comparable sensors found in current flagships like the Mate 20 Pro, P30 Pro and Galaxy S10 series.
Those who are hoping for Apple to rid the iPhone of its gargantuan notch may have to wait a few more years before that becomes a reality. The Cupertino-based company looks set to maintain the same display design for a third year running with this year's iPhones, having moved to a notch display with the iPhone X in 2017. However, it appears that Apple has no immediate plans to move towards a higher screen-to-body ratio iPhone as OnePlus has with the 7 Pro.
According to 9to5Mac, insider Ming-Chi Kuo believes that Apple will unify its Face ID and Touch ID technologies, with the latter complementing the former by way of being an under-screen sensor. The technology has apparently not reached maturity yet, with Apple resolving technical issues over the next 18 months before bringing Touch ID back to the iPhone in 2021.
Kuo also expects Apple to use a custom Qualcomm ultrasonic sensor, the likes of which we have already seen in the Huawei Mate 20 Pro, P30 Pro, Galaxy S10 and Galaxy S10+. Unsurprisingly, the sensor activation area will be larger on the 2021 iPhone than on the current crop of flagships to improve fingerprint recognition and minimise mishits. However, we doubt that larger under-screen fingerprint sensors will be exclusive to Apple, with the technology already having come a long way since the release of the vivo NEX Ultimate in 2018.
Inversely, it appears that Apple is not planning to move its Face ID sensors beneath the display to maximise screen size as Kuo only mentions Touch ID being an under-screen sensor, and not Face ID. While all this is currently conjecture, albeit from a generally reliable source, the notch looks set for a reprieve for at least a few more years.