Discord integration on the Samsung Galaxy Note 10 series is live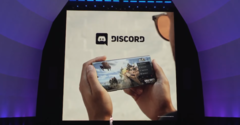 Discord is now available on Samsung's proprietary mobile app store. It is intended to allow for video chats while gaming, and has been introduced as a novel feature on the new Galaxy Note 10 line. It requires that your Discord and Samsung accounts are linked on these devices.
A new partnership between Samsung and Discord was announced at the Galaxy Note 10 launch event. It allows for advanced integration of the latter into the user experience on these new phablets. An example is the ability to set up a video chat in-game on one of these devices; however, XDA correspondents assert that this is possible all through the UI.
However, these features would not be made available until the Galaxy Notes 10 were released for sale in the majority of its target markets. This occurred on August 23, 2019. Shortly afterward, Discord became available on Samsung's Galaxy Store.
This allows the popular messaging app to function on the new Galaxy Note series as planned. A user wishing to take advantage of this new feature needs to download the app, and also make sure that all other relevant services such as Samsung Game Launcher and Samsung Game Boost are updated and active. The full integration also requires that Discord and a Samsung account are linked on a given phablet.