Leaked PlayStation 5 icon reveals questionable design surprise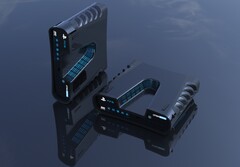 A photo of an alleged PlayStation 5 icon that supposedly appeared on the official Sony PlayStation Japan website has been leaked online – and if it is genuine its appearance could be something of a major surprise. While it is generally maintained that consumer market consoles look vastly different from their devkit counterparts, the icon suggests the PS5 will retain a V-shaped design.
This could be yet another example of PS5-related fakery to help maintain the constant buzz around the next-gen console, but this is at least a rather interesting little leak about the device. Apparently an icon for the PS5 appeared on the PlayStation Japan website before being rapidly removed. It would be fair to think that an icon wouldn't reveal much about the final design of a consumer market console, but in this case there's a little bit of a surprise in store.
Recent leaks have led many to believe that the consumer market variant of the PS5 is going to be more X-shaped than V-shaped like the devkit, whereas some have even opined that the next PlayStation might even come in a rather compact form. However, it is plain to see that the icon (see image below) has a distinct shape that once more implies Sony wants to celebrate the fifth iteration of its successful console by retaining the V form, with "V" being the Roman numeral for the number "5".
Of course, it's important to keep in mind that this particular PS5 leak would not be the most difficult one in the world to knock-up just for the sake of teasing the hordes of expectant PlayStation fans waiting for a glimpse at the real deal. But if Sony has gone with the polarizing V-shaped design for the consumer market model of the PS5 it will be fascinating to see how it can be further refined in its final state to appeal to the discerning masses.